Best metal detector for food industry TEC-QS
performance characteristics:
1,Signal detection circuit uses a two-way merger of technology with high sensitivity and high anti-interference ability
2.Signals with a dual function.When the metal has passed the signal indicator will be based on the size of the metal show different induction intensity.
3.DSP digital signal processing circuit by the finish,easy adjustment, stable and reliable.
4.Effect of regulatory function has the product, Such as sub products sugar products, salt content of food,will have a similar metal signal to the metal detector. Effect of this product will affect the testing results,,through this function to reduce the effect of product to Detect better results.
5.Function to prevent undetected.When there is a lot of metal signal through the apparatus will automatically detect the signal frequency,implementing agencies at the time action will not have undetected
6.When there is no detection of objects through, the work equipment in a sleep state objects only through testing to be valid.
7.Production line can be connected with supporting the use of the implementation of automatic detection pipeline.
8.Monitor the use of sound and light alarm,at the same time, exclude or automatically shutdown, the use of an extremely convenient and reliable operation.
Specifications:
Detecting method:Magnetic induction
Detecting width:400mm (can customized)
Detecting height:100mm (can customized)
Detecting adjustment:Stepless adjustment
Detection sensititivity 0.8-2.5mm, more than 2.5mm(colored and black metal)
Alarm method:Buzzer&LEDs indicator twinkles and shutdown automatically
Belt speed:(appr.)40m/min
Power supply:AC380V,50-60Hz
Weight:130-150kg
Dimension size:1620(L)×1000(W)×1100(H)mm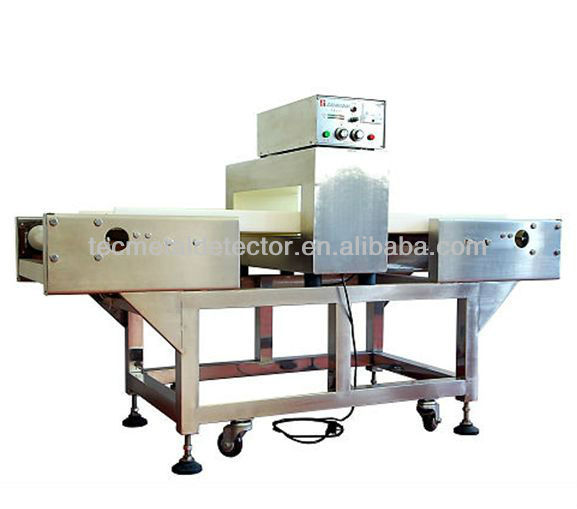 packing by wooden box (better to protect the machine)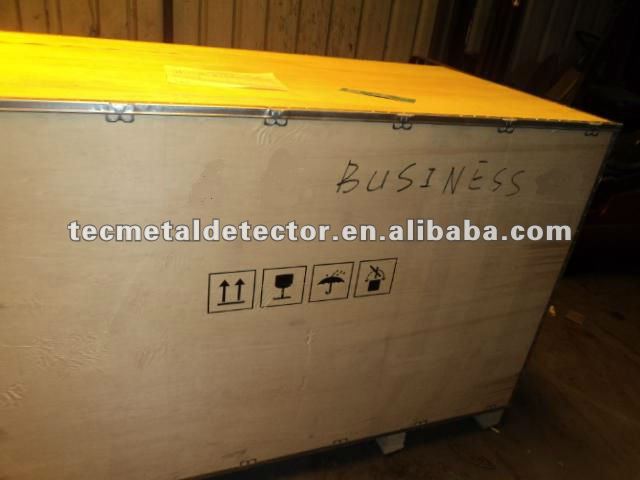 CE certification